Fundraising for MS: We TAN do it!
The Tan team would like to introduce one of our members to you: Deirdre de Bruyn. Not only is she a treasured business partner, but she is also the cousin of Tan's co-founding brothers. Deirdre is a truly dynamic lady: she is a wife, mother to an eight-year-old boy, a teacher at a school for mentally challenged children, and owner of the freelance creative services business Deeds Photography. From the platform of this business, she is the sole distributor of Tan products in Gauteng and Mpumalanga.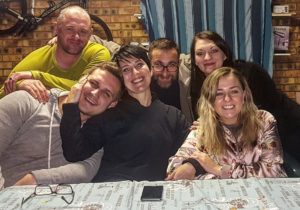 What makes Deidre's situation unique, is the fact that she is doing all the above while living with the autoimmune disease multiple sclerosis (MS) – a diagnosis she received in February 2018. MS is a condition where the body's own immune system attacks the central nervous system, causing inflammation that damages the nerve fibres' coating (called myelin), the nerve fibres themselves, and the specialised cells responsible for producing myelin. The result is a myriad of neurological complications as messages within the central nervous system are altered or even stopped completely. In Deirdre's case, she struggles from intense tiredness, chronic headaches that are not alleviated by conventional medicine, numbness on one side of her body, vertigo, and neck pain. As expected, these symptoms hinder her general functioning. Still, she bravely continues to live as fully as possible.

Although no cure is yet available for MS, and the nerve damage it causes is permanent, several options are available to slow down the progression of the disease and the degeneration of the patient's body. Deirdre is currently receiving treatment to accomplish this, and she requires additional medication to lessen her symptoms. Her medical aid does not cover all the expenses.
Another treatment possibility in South Africa (although rare and costly) is a haematopoietic stem cell transplant (HSCT). Because there are very few local doctors offering this option to MS patients, Deirdre might need to consider going abroad (e.g. to Russia or India) to receive it. The HSCT procedure entails the harvesting and freezing of the patient's own bone marrow, followed by the elimination of her immune system through chemotherapy, and finally reintroducing her own stem cells to reestablish her immunity. Again, the neurological damage already incurred will not be erased, but further degeneration should be halted. Therefore, the sooner this therapy is started, the better.
The greatest roadblock in Deirdre's journey to wellness is funding. The above-mentioned stem cell treatment will cost her family close to a million rand. And that is why we thought: Together we TAN do it! We are donating R50 of every online sale to her fund from March until 30 May 2019, which marks International MS Awareness Day. The entire month of May is MS Awareness Month in South Africa.
We know you desire one of our beautiful bags. Now you also get to help a beautiful lady when you purchase one!
Alternatively, you can donate directly to Deirdre's fund through EFT:
Name: Deirdre MS Journey
Standard Bank Savings/Debit Account
Account Number: 017508487
Branch Code: 051001
We TANk you for helping us helping Deirdre in her fight against MS!