Keep calm and carry on board: Packing list for long-haul flights
 Flying over oceans and camping out on airports during long layovers may be extremely exciting to certain wanderlust-prone individuals, but to the more comfort-craving, "flying" and "crying" are rather synonymous. Whether you are a fan or foe of international air travel, your experience could be greatly enhanced if you are rigged right. You need a proper packing list for long-haul flights.
Here are guidelines for gear to help you stay sane on the plane:
Clothing
What to wear in the air
Dress for comfort. This starts from the bottom up: Your shoes need to keep your feet happy during plenty of walking and queuing, but you also want to take them off once you are seated (and back on for a loo break), so comfortable slip-ons are your best bet. Pack cosy socks to keep your toes snug during the flight.
Dress in layers as temperatures between departure and arrival points as well as different planes and airports may vastly differ. Make sure your clothing is made from breathable material to keep you odour-free (and your fellow passengers happy) for longer.
If you have an extended itinerary, be equipped with an extra change of clothes and underwear.
Toiletries
What to apply in the sky
Do not assume the airline will provide you with any products like in the good-old aviation days!
A toothbrush and travel-size toothpaste are top of the freshen-up list. This is closely followed by face wash or wipes, deodorant and a hair brush. Wet wipes could substitute a shower on long travels and your fellow passengers will thank you for using foot powder.
Hand sanitizer is essential to ward off those bugs from all around the globe.
Nothing dries one out like hours on a plane, so be sure to arm yourself with moisturiser and lip balm.
If you need to look good when exiting at your final destination, waterless shampoo and your make-up bag (like the one here) with essential cosmetics should also accompany you.
Lastly, remember to comply with international regulations regarding carry-on liquids and gels: Keep them in 100ml containers inside a Ziploc bag. You don't want your comforts confiscated!

Boredom-busters
Time also flies when you're having fun 
In-flight entertainment can only keep you amused for so long! Be sure to pack some aids to save you from flying off the handle from dreariness. Some ideas:
Ipod with your favourite music/podcasts
Reading material
Puzzle book
Laptop/Tablet to catch up on work or games
Journal or sketching pad and pens
Knitting kit (Caution: take blunt, wooden needles)
Remember a portable battery charger if you tend to be on the tech-heavy side and want to prevent your entertainment from becoming as dead tired as you! Some airlines do offer USB ports in their seat, so be sure to find out, before packing needless extra items.
Medication
Drugs for when you get high, literally.
You do not want to have a medical scare in the air!
Packing prescription medication goes without saying.
Furthermore, have general meds for common travel problems (such as pain, sinus and allergies, flu, motion sickness, etc.) on you.
Energy and immune boosting as well as jetlag fighting treatments are also a good idea.
Other items to consider for your medical kit: Essential oils (like ginger, peppermint, lavender or camomile) to inhale against airplane queasiness and safe, natural tranquilisers to combat fear of flying.
Sleep aids
Fly off to dreamland
Lack of sleep is among the most common causes for people's aviation aversions.
To up your chances of some shuteye in the sky, a travel pillow, eye mask and ear plugs are essential!
If you tend to get cold easily, pack a compact knee blanket for if the one provided by the airline is insufficient or for an attempted airport nap.
Again, mild tranquilisers could work wonders to help summon the sandman.
Snacks
Nibbles in the sky are high in demand
The standard little chicken-or-beef you receive on board is often unsatisfying.
Go prepared with a stash of private refreshments, like energy bars, nuts, dried fruit, chocolates and biltong.
Always have a water bottle (preferably a collapsible one) on you for the air hosts to fill – that way you can stay hydrated without bugging them every five minutes or trying to save some sips in those dangerously spill-prone plastic cups.
Be sure to toss some chewing gum in your bag – it helps to keep your ears open and to stay on good terms with the passenger next to you. 
The perfect travel bag
A carryall to carry on
The life-saving cargo mentioned above will of course need to be lugged around on airports, planes and taxis. Therefore, the right bag for the job is of great importance – strong, sturdy, spacious and safe (with a touch of style to make up for that less-than-sexy sleep-deprived and dishevelled look).
Tan Leather Goods can provide you with the choicest travel companions. Meet big-hearted Emma (the elegant tote) or adventurous Jackson (our brand new, travel-ready duffel bag).
Bon voyage, leather lover!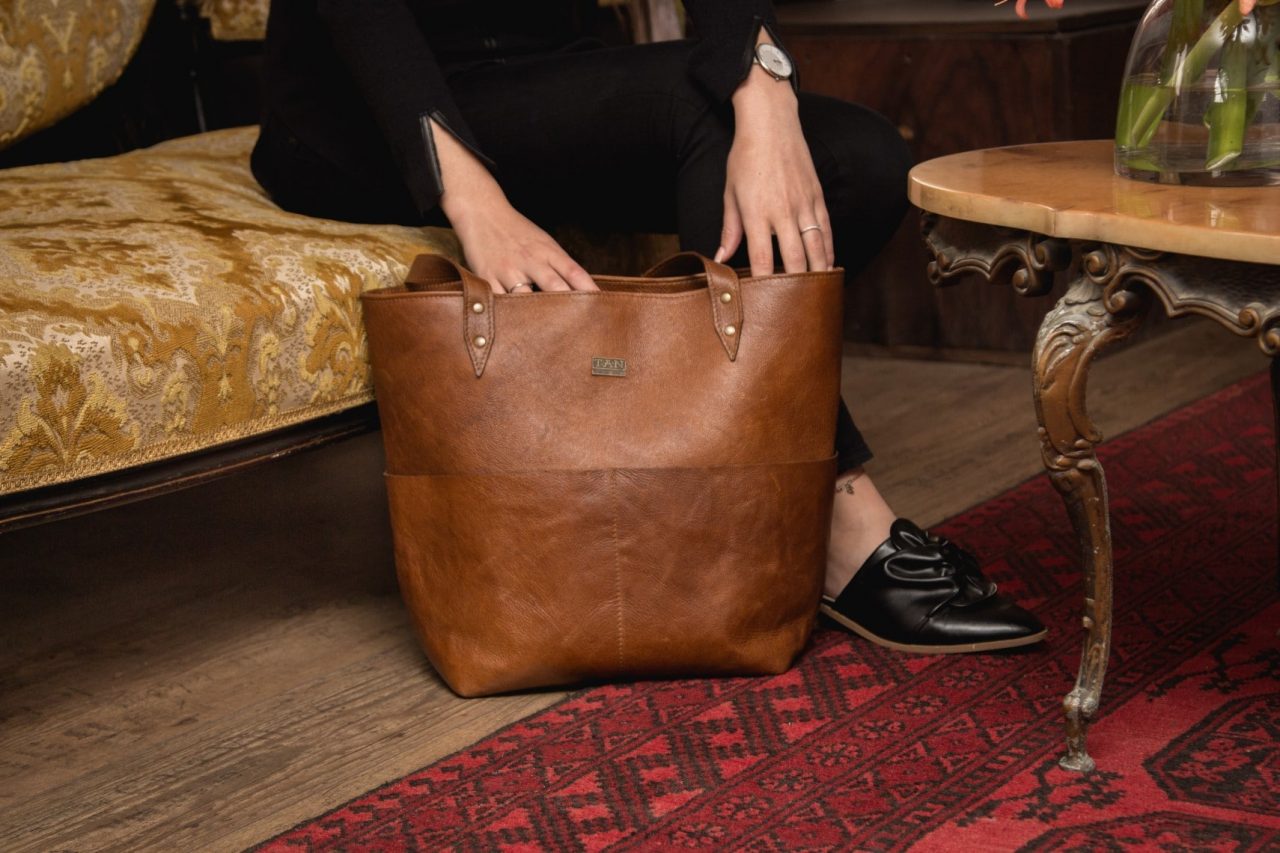 Emma
(Tote)
Emma is not shy of being on the bigger side and has room for anything from laptops, binders and books to beach accessories and overnight clothes (perfect for indoors or outdoors).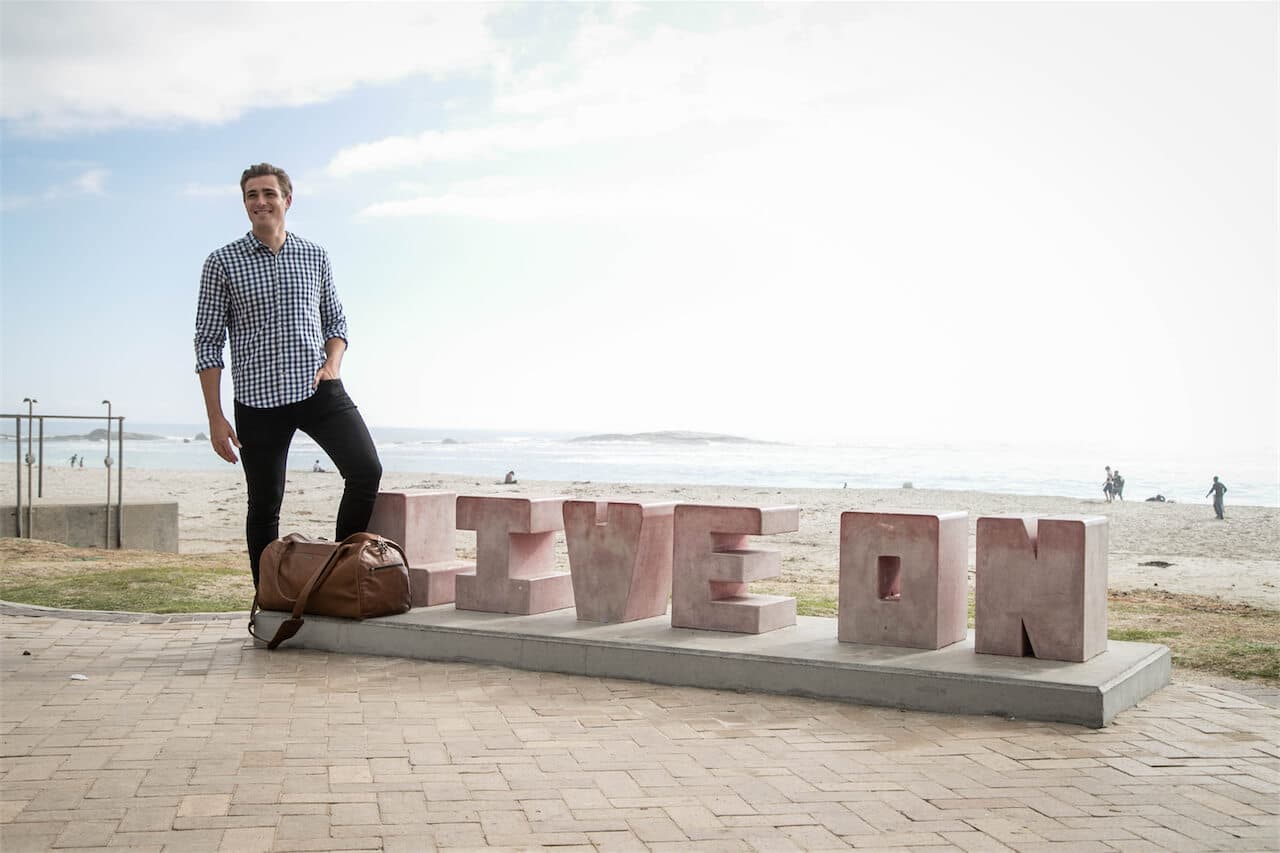 Jackson
(Duffel Bag)
Jackson is hard-core, athletic and adventurous. This combat-ready superhero is fit to carry your stash for sport or travel. He boasts a large internal capacity and a stylishly rustic exterior. Ready?